Butterick 4443 in cotton twill
First sewing post - yay!
I live in the hot and humid South, and it is especially hot and humid right now. I wanted to make something that would be cool and comfortable for work and also transition well into fall. This dress fit the bill. I made it up in a bluegrass-green cotton twill with a geometric print that I got on sale at JoAnn's about a month ago. It feels heavenly on a hot day like today.
The pattern is Butterick 4443.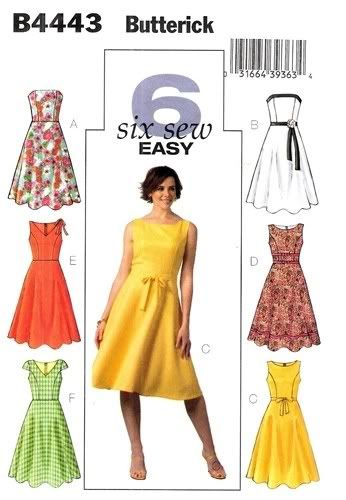 I wanted an A-line dress with a simple style, and I liked the lined, princess-seamed bodice and the somewhat retro feel. I made View C without the self-fabric tie. I wasn't sold on the high bateau neckline, so I lowered and narrowed it. I also shortened it at the hem a tiny bit.
When they say "easy", they mean it. This is a great pattern for beginners like me. The only tricky part was attaching the lining to the bodice at the shoulder. I know there are tutorials out there with much better ways to do this, but I had never lined a bodice and thought I would try it according to the instructions. Yeah, next time I'm going for the tutorials. I don't mind the hand sewing, but I didn't think I would ever get the shoulder seam to lie flat long enough to stitch it.
Here's a shot of the "innards":

I'm pretty proud of my lined bodice. The lining is bleached muslin - so soft and comfy.
And here is the zipper, another point of pride for me on this dress (the pic might come out wonky - I had some trouble uploading it):
This is only my second zipper, and I think it turned out great! I love the method of zipper installation in the pattern instructions. First you line it up and baste it to the right seam allowance. Then you lay the dress flat and baste all around the zipper on both sides. This helped me get it lined up perfectly.
I put a lot of hand stitching into this dress. The lining is slipstitched to the zipper and all around the waistline seam per the instructions, and of course the hem is hand sewn. But being the crazy hand stitcher that I am, I went a little further. I understitched the lining by hand using a short backstitch. And as usual, I hand overcast all of the seams to finish them. Yes, I know I am a nutcase. I love to sew by hand. It's a zen thing for me.
hand overcasting at seams and hem
This is the first time I've worn a dress with a zipper in maybe 15 years. I am short and chunky AND short-waisted, so I gave up on finding ready-to-wear fitted dresses in woven fabrics years ago. Any time I've bought a dress, it has always been either knit or loose or two-piece. Learning to sew has opened up this whole new world of possibility for me. I love my knit dresses, but there's nothing like slipping into a full-skirted, zip-up dress to make you feel like a lady.
I even kind of look like a lady - ha! :)