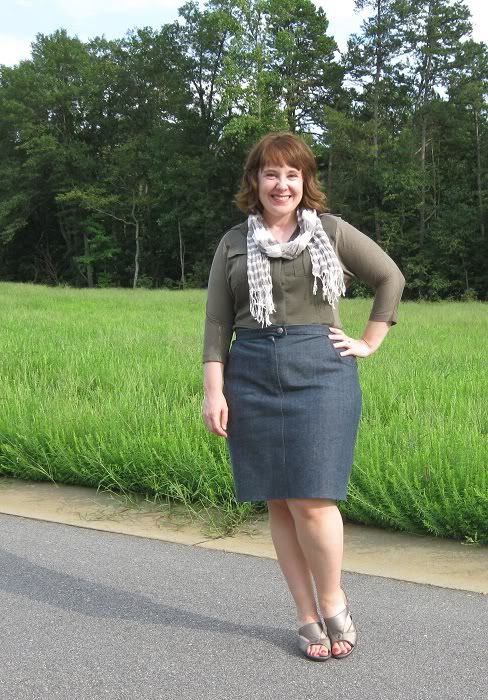 Butterick 5649 skirt in stretch denim

At last – some more content on this little beginner's blog!
Oh, Butterick 5649….

This is my most favorite flawed sewing project to date.

There are so many things wrong with this skirt, but that has not kept me from wearing it everywhere all the time.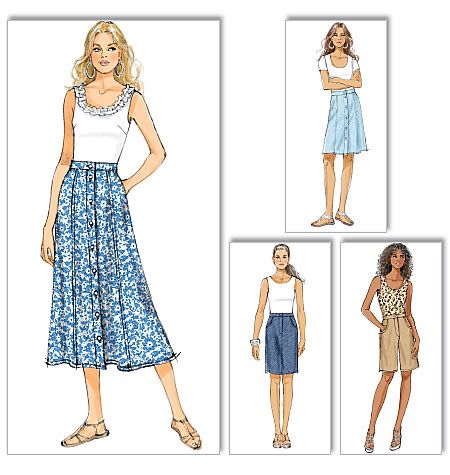 here be the pattern illustration
I have wanted a denim straight skirt for ages.

I don't know if these things are stylish.

It doesn't seem like you can find them anywhere in stores, and I remember them being a wardrobe staple when I was in junior high in the late 80s.

I guess this should tell me something, but I just don't care.

I wanted a denim skirt, so I made me a denim skirt!
here be the innards as seen hanging from the ole ironin' board
I used this wonderful, comfortable stretch denim that I got on sale at JoAnn's.

Stretch denim has to be one of the best inventions ever.

I had some issues with the waistband and front closure – which, granted, was the only tricky thing about this pattern.

This was my first attempt at a fly-front zipper closure, and I kind of stumbled my way through it.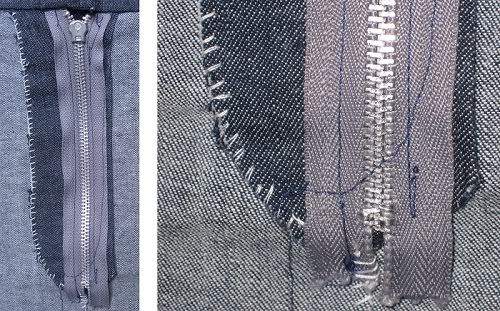 my first fly front zipper
I thought I had everything cut and marked and lined up properly, but I ended up having to sew directly over this metal zipper, which just doesn't seem right.

Luckily it did not break a needle or throw my machine off-kilter, but it made a lot of scary noise, and it looks strange to me from the inside.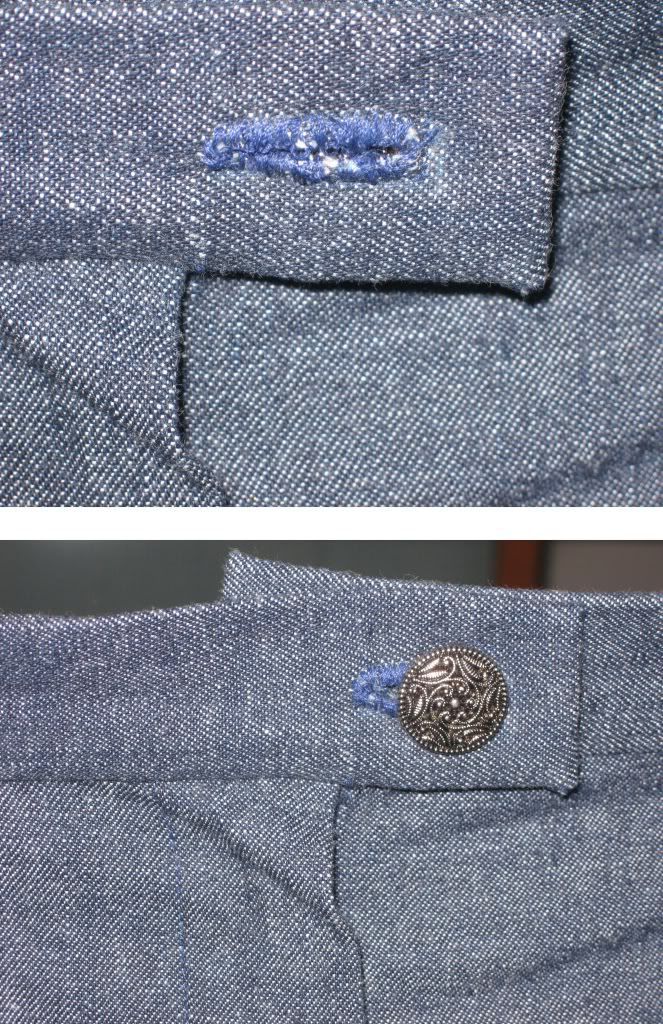 hand-worked buttonhole / ugly waistband with pretty button
In case it isn't obvious, the waistband doesn't really line up.

I am sure that 99% of this wonkiness is the result of my waistband ineptitude.

I think this is only my second attempt at a non-elastic waistband.

But the waistband pattern was confusing because there were a lot of different lines to be sorted out.

It would help tremendously if there was a different waistband pattern for each size.

Again, this is not going to keep me from wearing the heck out of this skirt.

(Actually, I already have.

Yes, I finished this skirt over 2 weeks ago and was too lazy to take pics until last night.

I hang my head in shame.)
Also, my cheapo machine makes questionable buttonholes at its best, and it did not like this stretch denim at all.

So I ended up having to hand work the buttonhole.

The result kind of makes me chuckle, and it's OK if you chuckle a bit, too.

triptych of poses, including obligatory booty shot
(believe it or not, this is my legs AFTER tan-in-a-bottle)

Overall, I am thrilled with this skirt!

I have worn it to work with a pretty blouse and out running errands on the weekend with a plain t-shirt and statement necklace.

There is just something about dark denim…. It has an almost magical way of instantly multiplying your wardrobe.
AND!

Nice, deep pockets!!!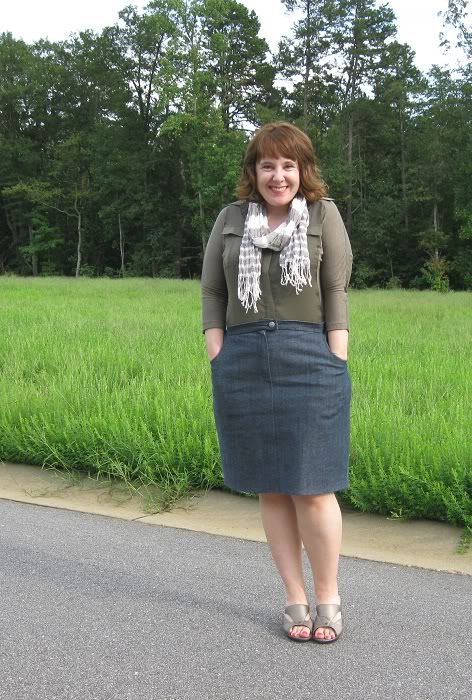 enjoying my pockets

On an unrelated note, have a look at all of my poor UFOs….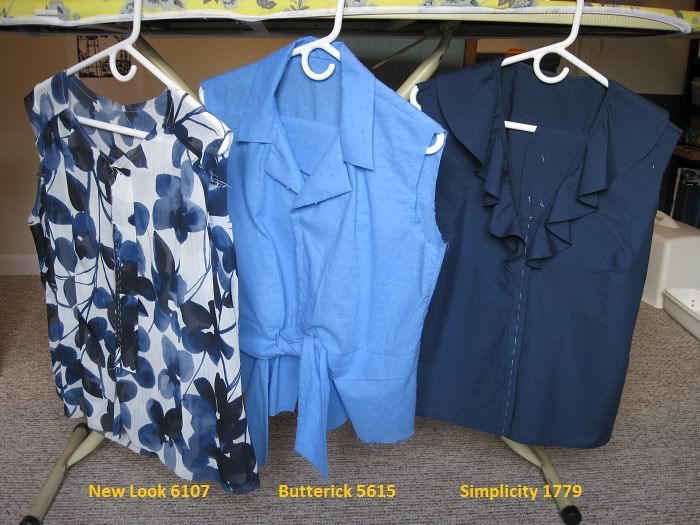 Aren't they sad?

I have never, ever finished a top, which is problematic because I am sorely lacking in nice tops and blouses for work.

Here's the rundown:
- New Look 1607:

Confused over what to do about the front facings, which will show right through this poly chiffon if sewn as drafted.
- Butterick 5615:

That front tie was much cuter in theory than it is over my belly.
- Simplicity 1779:

Way too low cut!

And also a bit too small.
As I hung them all up on the ironing board, it occurred to me that I seem to have a thing for the color blue.

You'll never guess what color my wedding dress is going to be!
300 dollars worth of silk
Speaking of which, there is some progress on the wedding dress front.

Here's a sneak peek….
oooh.... musliny!
Before I sign off, I wanted to thank all of you who have stopped by say hi and give me some words of encouragement!

As a newbie to both sewing and blogging, I really appreciate it.

Hope everyone has a great Labor Day weekend! :D